Pea protein powder has some surprising benefits when compared to whey, but does it provide the benefits of a supplement made from animal products?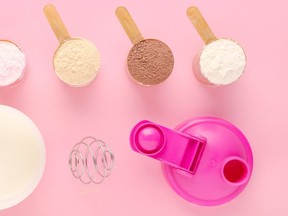 Article content
It can seem like there are as many types of protein powders as there are workouts to do with a dumbbell, so finding the right one can be challenging. Whey, collagen, soy, and pea protein are among the most popular choices for both the semi-regular gym goer and pro athletes — but what are the benefits or drawbacks of each type of protein powder? 
Article content
Whey protein powder is rich in amino acids
Article content
Whey protein is a byproduct of cheese manufacturing. When raw milk is strained and processed, whey is a liquid that's leftover. From there, it is dried and mixed with flavour to sell as a protein supplement. 
Containing amino acids such as leucine, isoleucine, and valine, some studies have shown whey protein aids muscle repair and growth, according to the Mayo Clinic. Most people are considered safe to take whey protein. The supplement may also contain calcium, potassium, phosphorus, iron and magnesium.
Article content
Whey protein may also have protective effects against Non-alcoholic fatty liver disease. A study published in Lipids in Health and Disease found rats that were fed whey protein had decreased markers of fatty liver.
Article content
Whey is a dairy byproduct and should be avoided by anyone who is lactose intolerant or has a dairy allergy. Depending on the brand, it may also contain gluten.
Exact nutritional information will depend on the brand of whey protein used, however, one 30 gram serving of a common whey supplement (chocolate flavoured, of course) contains 120 calories, 1.5 grams of fat, one gram of sugar, 35 mg of cholesterol and 24 grams of protein.
Article content
Collagen may help with joint pain
First thing first: collagen does not come from horse hoofs. As an animal product, however, it does come from the connective tissue from animals such as cattle, horses, pigs, and rabbits.
Collagen is the most ample form of protein in the human body, including being a key component of cartilage — the connective tissue that prevents bones from grating against each other at joints. There is evidence that collagen can help with joint pain and general injuries, and may even help in reducing arthritis symptoms.
Article content
The supplement may also act as a signal to the body to produce more of its own collagen, which can aid in healthier looking skin. 
However, collagen is not a complete protein supplement, so anyone looking for maximum support in muscle repair and growth may still want to use a whey supplement.
Again, the nutritional information will vary based on the brand, however, one example of a 10 gram serving of unflavoured collagen made from bovine skin contains 35 calories, zero grams of fat, zero grams of sugar, zero mg of cholesterol and nine grams of protein.
Soy protein isolate is rich in nutrients, but comes with some concerns
Soy protein consists of soybeans ground into a powder. That powder is processed into a soy protein isolate, which can consist of as much as 95 per cent protein. Soy protein also contains vitamin E, vitamin B, phosphorus, potassium, zinc and iron, however, the highly processed nature of this isolate means there may not be as many nutrients as in the original soybean.
Article content
The process to get soy into that isolate state is a bit controversial. Soy must be washed in either alcohol or acid to remove sugars and fibres, which can leave behind small amounts of metals such as aluminum, or chemicals like hexane. Hexane can potentially cause headaches, nausea, and vomiting. 
A 30 gram serving of one example of an unflavoured soy protein contains 110 calories, 0.5 grams of fat, zero mg of cholesterol and 25 grams of protein.
Pea protein powder is helpful for muscle building
A popular option among vegans, this easily digestible, iron-rich protein contains many of the same benefits as whey. 
In a 12-week study of 161 people published in the National Library of Medicine, pea protein showed no difference in muscle building properties when compared to whey. Researchers wrote that since no difference was obtained between the two groups of people using protein powder (as opposed to the placebo groups), vegetable pea protein could be used as an alternative to whey protein. 
Article content
The drawback of pea protein is that it lacks amino acids, an important component of muscle health that is easily available in other protein sources, according to the Cleveland Clinic.
A 25 gram serving of an example of pea protein contains 100 calories, two grams of fat, zero mg of cholesterol and 21 grams of protein.
Which protein powder is best?
For someone just starting out with protein powder — and who doesn't have any issues with dairy — whey is a safe bet to use as an introduction thanks to its easy availability in most stores. Whey is also less expensive per gram of protein than other supplements, like collagen. 
Vegan-friendly protein options can still pack quite the punch, however, they won't carry essential amino acids that are only found in animal products. If going this route, it will still be important to look for supplements that can balance out a meat-free diet.
As always, check with a doctor before diving into the supplement game. That being said, protein powder is generally safe and experimenting with different powders could yield great results after finding a type and brand that fits your lifestyle.
Chris Arnold is a Toronto-based writer.
DON'T MISS A THING: SIGN-UP FOR HEALTHING'S NEWSLETTER
Thank you for your support. If you liked this story, please send it to a friend. Every share counts.
Advertisement. Scroll to continue reading.
Advertisement. Scroll to continue reading.
Advertisement. Scroll to continue reading.