As we age, we know that our bodies change. It's not simply that we find it harder to get out of our chair, or our back hurts all the time; it's a little more complex than that. How our bodies demand and process nutrients changes.
Maintaining a healthy diet as we age is just as important as it is in our younger years, and it's important to understand how to do it. We asked experts for some tips on creating a nourishing and nutritious diet to support our bodies as we get older. Here's what they had to say.
Start with the basics
Clare Collins, laureate professor in nutrition and dietetics at the University of Newcastle, recommends we start by revisiting the Australian Guide to Healthy Eating as a framework for nutrition. Those food groups we learned about at school are still relevant today.
"Sometimes you've got to remind people what the basic food groups are," she says. "You probably know them, of course: vegetables and fruit, whole grains – particularly legumes – lean meats, fish, chicken, eggs, dairy and non-dairy alternatives."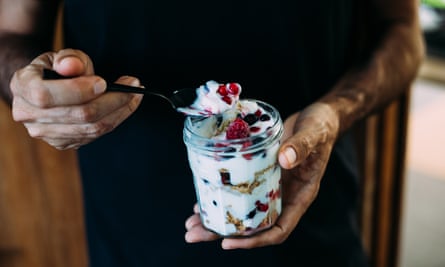 Dr Sandra Iuliano agrees. As a senior research fellow at the University of Melbourne, she has investigated and led studies in support of better nutrition in aged care.
"Each of the food groups have particular nutrients that the others don't have," she says. "Minimal processing is one of the key things: the less processing and the more natural foods are, the more original nutrients are still there."
Understand the way ageing bodies are different
Older people often have a lower daily caloric intake, due to decreased appetite, among other factors, so it's even more important that what they do eat has high nutritional value. Collins says our capacity to get those nutrients is affected by a range of challenges, and not getting it right can put older people at risk of malnutrition.
"Food can become less appealing as you age," she says. "Your sense of taste and smell starts to decline. You produce less saliva. It may be more challenging to chew. The amount of acid you produce in your stomach declines, and you need that to absorb vitamin B12. Your sense of thirst is not reliable, which leads to dehydration."
A diet that ticks every box will have the right portion sizes and macro and micronutrient content, as well as visual appeal and flavour.
Iuliano says: "Eating less food means you've got less capacity to get all the nutrients you need if you don't eat wisely."
Choose foods that nourish the body
Through her work, Iuliano – whose research has been supported by a grant from Dairy Australia – has looked at the impact of nutrition on muscles and bones, as well as brain and gut health.
"When you go through which foods have the greatest impact on those areas, it always comes back to your basic eating," she says.
Bone health is a key factor in overall wellbeing. Calcium and protein, which are found in dairy, can reduce the risk of falls and fractures that can lead to decreased quality of life and higher mortality, Iuliano says. Her research found that when daily intake of dairy was increased for a group of aged care residents, their risk of falls reduced by 11% and their risk of hip fractures by 46% over a two-year-period.
"With dairy, four serves [per day for women over 51] are suggested so that we're getting enough calcium," she says. "And it's a good source of protein."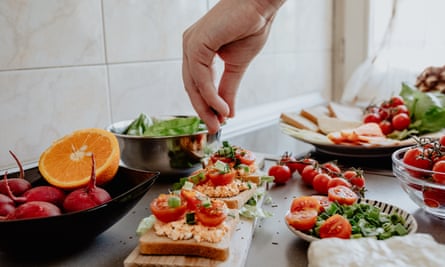 Meat, fish and legumes are also good sources of protein, Iuliano says. Non-dairy foods that are rich in calcium include almonds, sardines, tinned salmon with bones, and firm tofu. For brain food, Iuliano recommends options such as green leafy veggies, fatty fish, avocados, walnuts and berries.
Replace low-value foods with nutrient-dense options
"What happens with the really old," Iuliano says, "is they physically can't eat that much food. In my work in nursing homes, for example, they have about 1.6kg of food a day."
That makes it impossible to just add more food to a diet – older people simply can't eat that much. Instead, low-value foods, such as cake and biscuits, should be swapped for snacks that offer higher levels of important nutrients such as calcium, protein and vitamins.
Collins suggests introducing balanced, delicious snacks that offer more nutritional value and are easy to eat. "An ideal snack is something like a custard or rice," she says. "A baked custard with peaches on the bottom. That morning tea, rather than just being a cup of tea and a biscuit, it could be a cup of tea and a yoghurt, or an egg and lettuce sandwich. Something that's nourishing them and that's tasty."
Create meals that are a joy to eat
Creating a sense of surprise and adventure in food – through colour, flavour or texture – can make it more appealing to eat.
"Someone with low appetite needs more encouragement and stimulation," Collins says. "It's important for people who are looking after older people to understand that aspect of food enjoyment. If you can't get the texture and the stimulation right, eating becomes a chore."
She recommends looking at different ways to enhance taste and add interest. Toasted breadcrumbs can introduce interesting texture without being difficult to chew. Giving people the chance to add their own condiments allows flavour to be tailored to their individual needs. This can be as simple as adding chilli oil, or shakers of dried herbs and spices, alongside salt and pepper at the dining table.
Another easy way to enhance flavour, while also increasing protein and nutrient content, can be to add a sprinkle of cheese or a dollop of yoghurt.
The eating and dining experience should be viewed holistically, Collins says. "This is just as important as medication. This is about actually nourishing people, helping them be social."
As we age, it's essential to maintain good nutrition. Nutrient-rich dairy foods can play a key role in creating healthy and delicious meals. Find out more about how dairy can support healthy ageing.
Advertisement. Scroll to continue reading.
Advertisement. Scroll to continue reading.
Advertisement. Scroll to continue reading.